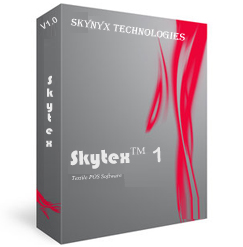 Textile POS (One stop soltution for Managing Textile Shop)
Increases profits by improving billing speed and accuracy.
Manage your stock items effectively.
Quick implementation within 3 days - 100% guaranteed.
Key Business Benefits of Skytex v1.0
Improved Customer Service and Satisfaction.
Higher Operational Efficiency.
Increase your revenue per square feet.
Lower operating cost.
Profile your Customers, build Customer loyalty and drive repeat purchases.
Get accurate information to take critical business decisions.
Key Functional Benefits of Skytex v1.0
Easy and flexible to operate web application.
Physical stock verification and Sales return Management
Flexible and comprehensive Reports classification to suit POS business needs.
Optimize your inventory management – get report of re order stock.
Accurate sales and profit details of every day, month, year. Gives peace of mind and reduced hassles in retail store operations.
Why choose Skytex v1.0?
One time investment, No yearly payments.
24 * 7 Telephone support.
Onsite support (under AMC).
Highly robust and secure to prevent pilferage and fraud.
Ease of use and simplicity reduces the training time and the robustness minimizes the inadvertent errors made by Human operators.
Support for multi shops and multi sales counter.
Sales , purchase and profit reports are available via Mobile Internet.
Purchase
Purchase Management
Purchase Return Management
Inventory
Stock Entry
Stock Status
Physical Stock Verification
Stock Adjustments Management
Sales
Bill management
Sales Return Management
Offer Management
Barcode
Stock ID Based
Purchase ID Based
Master
Supplier Management
Product Category Management
Salesman Management
Reports
Purchase Report – by bill and Date with Graph
Sales Report – by bill and date with Graph
Salesman Report – by bill and date with Graph
Profit Report – by bill and date with Graph
Profit Report – by Date with Graph
Stock Valuation
Stock Level
Reorder Stock
Settings
Shop profile
User Management
Hardware requirement:
System with minimum 1 GHZ processor speed.
Thermal Printer (Bill printing)
Bar code Printer (optional)
Bar code Scanner (optional)
You can use Skytex V1.0 in three ways:
Independent - on a single system placed in your outlet.
Intranet - use it on multiple network computers.
Online – Host on a secure server.
| | | |
| --- | --- | --- |
| Login | Shop Details | Add Supplier |
| Add Product Category | Product Category Management | Add Sales Bill |
For more details,
Please contact us via This email address is being protected from spambots. You need JavaScript enabled to view it.