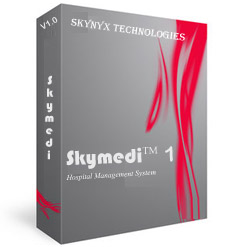 Skymedi (Hospital Management System)
Easy access to patient's clinical data for doctors.
Facilitates timely service and better care for patients.
Quick implementation within 5 days - 100% guaranteed.
Skymedi v1.0, Web based Hospital Information Management System is a suite of software modules to computerize any hospital. It is fully online web based software. The information is available anytime, anywhere. There are plenty of exhaustive modules available in Skymedi v1.0, which makes it User friendly, highly versatile, Quick installable, Completely Database driven, and Centralized Database.
Skymedi v1.0 addresses all major functional areas of Hospital. The development environment ensures that software has the portability and connectivity to run on virtually all standard hardware platforms, with stringent data security and easy recovery in case of a system failure.
The system is easy to operate, with simple operating instructions covering all the functions in the areas of Out Patient, Appointments, Billing, Electronic Medical Records, Lab & Radiology Information System and Picture Archiving. Skymedi v1.0 application provides Graphical User Interface for smooth and easy operation. It simplifies the various departmental activities providing timely services for patients.
It provides applications to automate a variety of healthcare facilities, customizable features to meet the unique needs of your organization and robust reporting and interactive features that provide a high return on investment. It's a veritable magic pill – the only software you need to ensure that your healthcare organization remains healthy.
Key Business Benefits of Skymedi v1.0
Improved Patient Service and Satisfaction.
Higher Operational Efficiency.
Lower operating cost.
Supporting paperless clinic.
Get accurate information to take critical business decisions.
Key Functional Benefits of Skymedi v1.0
Easy and flexible to operate web application.
There's no more searching the paper file page by page.
Generate Prescriptions in less than 60 seconds.
Test results can be prepared on time.
Easy to use for healthcare employees.
Easy to use patient visit details.
Staff will spend less time filing and tracking down and managing files.
Detailed demographical and clinical data analysis.
Flexible and comprehensive Reports classification to get accurate information.
Legible, accurate and complete documented records result in further reduced risk and malpractice exposure to clinicians, hospitals and the company.
Multi-user and LAN compatible.
Compatible with any Windows 9x or higher version.
Why choose Skymedi v1.0?
One time investment, No yearly payments.
24 * 7 Telephone support.
Onsite support (under AMC).
Highly robust and secure to prevent pilferage and fraud.
Ease of use and simplicity reduces the training time and the robustness minimizes the inadvertent errors made by Human operators.
Out Patient
Add Patient
Patient Management
Add Appointment
Appointment Management
Billing
Add Bill
Bills Management
Ledger
Doctor
Appointments
Doctor's Desk
Patient Profile
Laboratory
Add Test
Test Management
Add Test Reports
Test Reports Management
Pending Tests
Reports
Disease Analysis
Appointments
Billing
Other Fees Collection
Laboratory
Laboratory Billing Pending
Payment Collection
Event Logs
User Accounts
Add User
User Management
Add Access Rule
Access Rule Management
Master
Add Disease
Disease Management
Add Medicine
Medicine Management
Add Test
Test Management
Add Test Package
Test Package Management
Add Fees
Fees Management
Add Doctor
Doctor Management
Add Ledger
Ledger Management
Utilities
Settings
Hospital Profile
DB Backup
Change password
Hardware requirement:
System with minimum 1 GHZ processor speed.
Printer (Bill printing)
Scanner (To scan and save paper records)
You can use Skymedi V1.0 in three ways:
| | | |
| --- | --- | --- |
| Independent | - | on a single system placed in your outlet. |
| Intranet | - | use it on multiple network computers. |
| Online | - | Host on a secure server. |
| | | |
| --- | --- | --- |
| Appointment Manager | Treatment Summary | Doctor's Desk Prescription |
| Add Bill | OPD / Add Patient | Lab Test Result Entry / Edit |
For more details,
Please contact us via This email address is being protected from spambots. You need JavaScript enabled to view it.