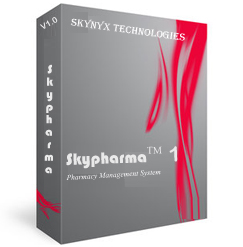 Skypharma (PharmacyManagement System)
Increases profits by improving billing speed and accuracy.
Manage your stock items effectively.
Quick implementation within 2 days - 100% guaranteed.
The efficient operation / management of a crowded pharmacy shop which is dealing with a huge number of prescriptions, depends on the factors like the number of efficient staffs to handle the customers or the implementation of the appropriate software technology. We conducted a survey of senior doctors & chemists as a first step of preparing the software.
Skypharma v1.0 pharmacy billing software has a rapid speed billing, which helps to handle the crowded customers with more efficiency in a short duration.
User can design & configure the skypharma v1.0 medical billing software as per their requirements. Skypharma v1.0 has unlimited choices of options & configuration settings that fits the individual requirement of a pharmacy shop business. The users just have to configure the skypharma v1.0 medical billing software themselves as per their requirement and the custom made software for a pharmacy shop is ready! Skypharma v1.0 pharmacy software smartly informs the user about the expired medicines / medicines nearing the expiry date so that the user can make timely return of the expired medicines & get the claims.
Skypharma v1.0 is committed to provide the best supporting system for the pharmacy business upgrading itself from time to time according to the market needs. The incomparable after sales service and training support is the key behind its success.
Key Business Benefits of Skypharma v1.0
Improved Patient Service and Satisfaction.
Higher Operational Efficiency.
Lower operating cost.
Supporting paperless pharmacy.
Get accurate information to take critical business decisions.
Key Functional Benefits of Skypharma v1.0
Complete Medical Inventory & Billing Management
Control on Stocks, Expiry & Claims
Easy & Fast Medicine billing with Accuracy
Cross check of Purchase Rates, Disc. Deal & Cost
Effective Purchase Management to reduce costing
Zero Percent chance of Manual Mistake
Best Relations with Patient & Doctors
Customers Satisfaction & Business Improvement
Multi-user and LAN compatible.
Compatible with any Windows 9x or higher version.
Re-Order with Best Supplier Management
Expiry Management
Why choose Skypharma v1.0?
One time investment, No yearly payments.
24 * 7 Telephone support.
Onsite support (under AMC).
Highly robust and secure to prevent pilferage and fraud.
Ease of use and simplicity reduces the training time and the robustness minimizes the inadvertent errors made by Human operators.
Purchase
Add Purchase
Purchase Management
Add Purchase Return
Purchase Return Management
Sales
Add Sales Bill
Sales Bills Management
Add Sales Bill Return
Sales Bill Return Management
Price Management
Store
Stock Manager
Add Stock Adjustment
Stock Adjustment Manager
Reports
Sales
Sales Details
VAT Output Register Daily
VAT Output Register Monthly
Sales Tax Bills
Purchase
Profit
Stock Valuation
Closing Stock
Expiry Products
Re Order Stock
Stock Summary Reports
Pending Payments
User Accounts
Add User
User Management
Add Access Rule
Access Rule Management
Master
Add Supplier
Supplier Management
Add Doctor
Doctor Management
Add Product
Product Management
Add Ledger
Ledger Management
Accounts
Ledger
Add Voucher
Voucher Management
Settings
Hospital Profile
DB Backup
Change password
Hardware requirement:
System with minimum 1 GHZ processor speed.
Printer (Bill printing)
You can use Skypharma V1.0 in three ways:
| | | |
| --- | --- | --- |
| Independent | - | on a single system placed in your outlet. |
| Intranet | - | use it on multiple network computers. |
| Online | - | Host on a secure server. |
For more details,
Please contact us via This email address is being protected from spambots. You need JavaScript enabled to view it.