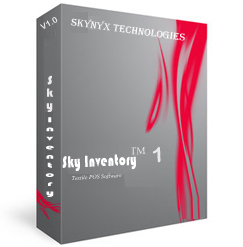 Keep track of your Inventory, Purchase and Project Delivery.
Manage your stock items effectively.
Quick implementation within 5 days - 100% guaranteed.
When it comes to inventory software, you have a world of options to choose from. From a basic ERP program to full-featured, professionally-developed inventory management software for your business, the choices can make your head spin. How do you know which one is right for your business, inventory control and management needs? When will you find inventory software you can be confident in? Doesn't anybody make professional, customizable, inventory management software that's affordable for your business?
Welcome to Skyinventory! Over the years, we've listened to the wants, needs, and complaints of business people who hope to develop or improve their businesses. Through that feedback, we've developed Skyinventory, an inventory software solution that handles all of your your day-to-day inventory management needs.
Skyinventory is the universal program for Inventory Control & Materials Management Software from simple invoicing to complex inventory control system designed specially to meet the requirements of small and medium sized enterprises (SME). Skyinventory Software is an intuitive, easy to use, robust, multi-user inventory business management system and project based material supply and comes with extensive reporting tools.
Transactions to receive and move stock are modeled so that you can easily create material request, delivery advice and delivery challan.
Purchase
Waiting Material Request
Delivery Advice Management
New Purchase Order
Purchase Order Management
Store
Stock Inward
Stock Inward Management
Stock Available
Waiting Delivery Advice
Delivery Chalan Management
New Material Return Note
Material Return Note Management
Waiting Purchase Order
Project
New Project
Project Management
New Bill of Quantity
Bill of Quantity Management
New Material Request
Material Request Management
Authorize Material Request
Payments
New Amendment
New Performa Invoice
New Invoice
Payments Management
Job & Date Wise Report
Due Date Wise Report
Consolidate Statement
Master
Add Customer
Customer Management
Add Supplier
Supplier Management
Add Item
Item Management
Terms & Conditions
Reports
Project Report
Billing Report
Material Request VS Deliery
Settings
Company Profile
Add User Account
User Account Management
Add User Rights
User Rights Management
Dashboard
Hardware requirement:
System with minimum 1 GHZ processor speed.
Printer (Bill printing)
Scanner (To scan and save paper records)
You can use Skyinventory in three ways:
| | | |
| --- | --- | --- |
| Independent | - | on a single system placed in your outlet. |
| Intranet | - | use it on multiple network computers. |
| Online | - | Host on a secure server. |
For more details,
Please contact us via This email address is being protected from spambots. You need JavaScript enabled to view it.