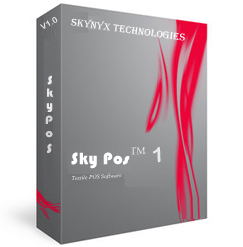 SKYPOS – Textile Shop POS (optional Barcode)
Increases profits by improving billing speed and accuracy.
Manage your stock items effectively.
Quick implementation within 3 days - 100% guaranteed.
The skypos software is a ready to use software for self service format of retail like super market, hyper mart, provision stores and department stores. It is accredited by successful owners and managers of profitable Supermarkets, Convenience store, Fruits & Vegetable store, Music Store and Wine Stores.
Skypos increases staff efficiency as it requires less human efforts and streamlines the inventory and other process so that you can focus on growth and expansion. It enables you to focus on new opportunities and reduces your involvement in complex day-to-day tasks.
The skypos is fast in implementation and easy to learn and smooth in operation. Most of our customers have increased their profit and maximized control over their business in just few weeks.
Purchase
Add Manufacturer
Manufacturer Management
Add Distributor
Distributor Management
Add Purchase
Purchase Management
Add Purchase Return
Purchase Return Management
Inventory
Add Products
Product Management
Add Product Attributes
Product Attributes Management
Add Inventory Location
Inventory Location Management
Stock Status
Stock Enquiry
Stock Transfer
Stock Adjustment
Stock Ledger
Barcode
Sales
Add Sales Bill
Sales Bill Management
Add Sales Man
Sales Man Management
Add Sales Counter
Sales Counter Management
Customer
Add Customer
Customer Management
Customer Desk
Loyalty Point
Accounts
Daily Book
Add Ledger
Ledger Management
Add Receipt
Receipt Management
Add Voucher
Voucher Management
Add Bank
Bank Management
SMS
SMS Log
Add Custom Message
Custom Message Management
Reports
Stock Valuation
Amount Payable
Amount Receivable
Profit Statement
Daily Summary
Settings
Hardware requirement:
System with minimum 1 GHZ processor speed.
Thermal Printer (Bill printing)
Bar code Printer (optional)
Bar code Scanner (optional)
You can use Skypos in three ways:
Independent - on a single system placed in your outlet.
Intranet - use it on multiple network computers.
Online – Host on a secure server.
For more details,
Please contact us via This email address is being protected from spambots. You need JavaScript enabled to view it.